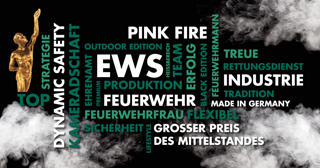 "Made in Germany" is commitment and guarantor for the production location Germany.
EWS as a flexible medium-sized producer of safety shoes has remained true to this ideal

The success of EWS is guarantied by the focus at the production of premium safety shoes and safety boots, the possibility to respond to market requirements and customer needs. This is realized by short production- and decision ways in the industrial production in the areas punching department, assembling department and quilting room.

Flexibility is our trump!

The uncompromising adoption of top quality materials for the assurance of the high EWS-quality-level, the compliance of functionality, comfort and design consistent with the current unified standards serves a goal, the safety of our customer through our product.

EWS is fit for the future on the national and international market for safety boots.
Our range of service:
- safety shoes and safety boots in analogy to EN and EN ISO for all occupational groups
Your specialist for:
- fire brigade
- rescue service
- forest
- hot area
- industry
Our strengths:
- quality
- flexibility
- ability to deliver
YOUR EWS-TEAM